The Patriarch of Alexandria and All Africa, Theodoros II, opened the doors of the Patriarchate in Alexandria of Egypt in April of 2008 with a welcoming embrace and gave a moving speech in the Throne Room to officially welcome TLIG and Vassula. Here is what he said:
"From the depths of my heart, I wish to welcome you all officially, here in the Throne Room, where our companion is St. Mark, the Apostle and Evangelist. In the morning, I received you at the monastery of St. Savvas, a humble monastery, which was founded in the 4th century. Today, I greet you officially here, in our Patriarchate, whose history spans 2,000 years from the time of Jesus Christ to the present. Thus, on the one hand, with the exception of the Apostle Paul, we have our history involving the great Apostles, whose successors were the Great Fathers of the Church. That history brings us to present times and, thus, you can see all the Patriarchs that have been appointed to Alexandria on your right and left.
All this is our heritage, the future lies before us: it is for us the entire land of Africa. That is why I want you to know that, before I ascended the steps to the Throne of St. Mark, I was a missionary in Cameroon, the Sudan, Gabon, Zimbabwe, Mozambique, Malawi, Botswana and Angola. As a missionary, therefore, I really got to know Africa: the difficulties that it faces and the enormous poverty issues but, most of all during my journeys, I meet people that are searching – searching for the love of Jesus. That is why, Vassula, I was very moved when you all sang to Jesus Christ a few minutes ago as my thoughts went immediately to all my African children who also raise their hands towards the heavens and sing in thousands of languages about Christ; the love of Christ that we so desperately need. I am planning shortly to make a long journey to Ghana, having recently returned from Madagascar.
And now, I would like to welcome you all from the bottom of my heart, especially you, Vassula, as I said in church this morning, welcome to your homeland, welcome to the country of your birth, and greetings to all who accompany you. As they say here, Vassula, "Anyone who drinks from the waters of the Nile never forgets this country."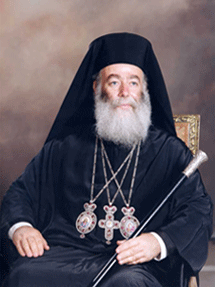 I would also like to greet the Bishop from India – welcome dear brother to our Apostolic Patriarchate. I wish to welcome the monk, you, Sister, you, Father and you, Father from the Roman Catholic Church and tell you all that with much love we receive you, we love you and that we are under the same protection and love of our Great Lord, Jesus Christ.
Vassula, I would like to thank you for this opportunity, to be together over the next few days. This evening, we will follow together the Passion of Our Lord. Tomorrow, we shall worship before His Epitaph and we shall live, in our devoutly beating hearts, His Passion and His Resurrection. And that joy – that is my wish – that the joy of the Resurrection and the Light may be with us always all the days of our lives. In the name of Jesus Christ I wish to bless you all and your families and please know that Alexandria's and the Patriarchate's doors will always be open to you. Thank you"
TLIG Participates in Greek Orthodox Easter Alexandria, Egypt – April 2008