Beit Miriam in Cairo / Egypt was established in the year 2000, after True Life in God was introduced in various ways. This resulted in several visits of Vassula in Egypt. Soon after, Sr. Carina Maria NDS (Notre Dame de Sion), volunteered to take on the challenge, of Beit Miriam, beside many of her other responsibilities. A small room was rented in two different houses for cooking and distributing meals feeding about 20 of the poorest families (about 107 persons) in her area twice a week. When Vassula visited Cairo in 2009 and saw the poor condition of Beit Miriam, she urged Sr. Carina to rent a flat that would house the Beit Miriam in a dignified fashion where people would be uplifted by a friendly environment.
In April of 2010, Sr. Carina found and rented the current apartment. It has 3 rooms with a small kitchen net and bathroom. Beside cooking and distributing meals twice a week, the facility is used for prayer, social gatherings on special feasts and for teaching and encouraging a community atmosphere.
BM Entrance Cairo with Sr. Karina Maria NDS
CURRENT SERVICES: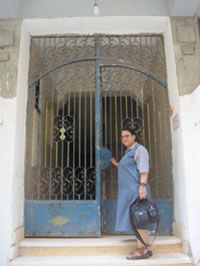 Food:
Beit Miriam Cairo serves 33 families / about 165 persons twice a week. These families have been recognized as social welfare cases and are registered as such (although without receiving any aid from governmental sources). Each Wednesday and Saturday they receive cooked food that is prepared in the Beit Miriam headquarters.
For lack of space and to better serve the family unity, the meals are collected by one member of the family and eaten at home adjusting to the schedule of each family. Initially, enough food was provided, securing food for about four days. This has become difficult now with the constant increasing food prices and limited funds.
Every year BM Cairo organizes a summer camp. Sister Carina takes the children (3 to 23 years) who are attending BM Cairo to the sea. Here they share some impressions from their camp at Port Fouad close by Port Said. A 6 years old girl starts the meal prayer.
To support this wonderful work of Love please donate at: bethmyriam.org/donate-now
Have you become a monthly contributor yet ? http://www.tligfoundation.org/BMsub.php